On 26 December 1895 an unusual but enterprising art dealer called Siegfried Bing opened a new gallery on the Rue de Provence in Paris.
Having inherited his family business, Bing had spent his career buying and selling French porcelain. In the 1870s he started to become interested in Japanese prints, ceramics and objets d'art, which he imported and sold to a rapidly expanding market. By 1895 business was booming, and Bing needed somewhere to display his fine collection.
He called his gallery 'Maison de l'Art Nouveau', as a celebration of everything that was new and innovative in art. Unwittingly, the small gallery Bing opened and managed for 10 years would give its name to a new, self-consciously modern style in the decorative arts starting to emerge across Europe and America: Art Nouveau, literally meaning 'new art'.
When was the Art Nouveau period?
Art Nouveau flouished as style in the years between 1890 and 1914; a period of great social upheaval across the world. This was the age of airplanes, steamships, ocean liners, telecommunications, electricity, moving film, mass industry, urbanisation, secularisation, and democratisation. The speed of change was frightening.
Art Nouveau emerged to reflect this, by making a conscious attempt to break free from the constraints of the past. It was a truly modern movement, concerned with pushing forward, with celebrating the new and not dwelling on the old.
This message was especially resonant given much 19th Century art until that point had been consciously historicist, that is, concerned with trying to resurrect the forms of classical Greece and Rome.
It was fitting, then, that Art Nouveau's high point came during perhaps the biggest celebration of modernity in the world: the Paris Exposition Universelle in 1900.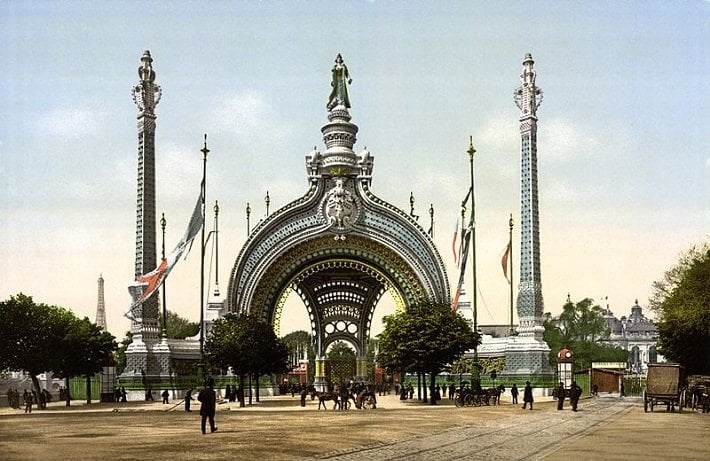 Colour lithograph of Jules Binet's entrance to the 1900 Paris Exposition Universelle
The Exposition Universelle, or the World's Fair, was a chance for designers and technologists to showcase their most innovative work. Paris in 1900 was famous for being the first place to exhibit the moving escalator, as well as the talking film.
There was a widespread feeling of excitement at the Exposition about the century that was to come, and it was in this climate that the Art Nouveau flourished. Over 50 million visitors flocked to Paris to see the quirky, innovative architecture and art made by the major Art Nouveau designers of the time.
Despite its heady climax around the turn of the 20th Century, Art Nouveau was not to last. The onset of the First World War in 1914 led to a decline in artistic production, and Art Nouveau was largely forgotten by the end of the war.
The 1920s and 1930s saw the birth of new artistic and architectural movements, including Art Deco, Bauhaus and Modernism which would largely replace Art Nouveau as the West's predominant design style.
Where was Art Nouveau and what names did it go by?
Although France was in many ways the centre of the Art Nouveau, the style was popular all over Europe and the Western world, and each country had its own version of the movement. Each version was slightly different, influenced by the local artistic customs and traditions.
In Britain, Art Nouveau was sometimes called the Glasgow Style, thanks to the popularity of Glasgow-based designer and architect Charles Rennie Mackintosh. Americans referred to it as the 'Tiffany Style', after the celebrated glassmaker Louis Comfort Tiffany.
Germans called the movement Jugendstil ('young style') and in Austria it was Sezessionstil ('secession style'). In Italy Art Nouveau was stile floreal ('floral style'), while in Spain it was simply modernismo.
Even in France Art Nouveau was known by a variety of different names, including le style metro (after the new metro system), le style Jules Verne (after the writer) and art fin de siècle (meaning 'turn of the century').
What were the influences on the Art Nouveau style?
Art Nouveau as a style was unlike anything that had come before it. But it was inspired by ideas taken from a wide range of artistic movements in the 19th Century.
One important artistic influence on Art Nouveau was the Arts and Crafts movement in England, led by the writer and polymath William Morris (1834-1896), who promoted a return to traditional craftsmanship in the face of mechanised mass production.
Art Nouveau designers, like followers of the Arts and Crafts movement, saw no distinction between art and craft, and produced beautiful decorative pieces which ran counter to the traditional hierarchy of 'great' fine art (painting and sculpture) and 'lesser' decorative art (furniture and household items).
Like Arts and Crafts designers, Art Nouveau makers wanted to show that everyday objects like lamps and doorhandles could be just as beautiful as great sculptures and paintings.
Additionally, Art Nouveau designers were influenced by the vast amounts of Japanese art which began to flood into Europe's markets after new trading rights were established with Japan in the 1860s.
The fashion for Japanese art, known as Japonism, would provide Westerners with a completely different perspective on what art could be. While Western painting was often three dimensional and used techniques to capture the effect of light and shadow, Japanese prints were two dimensional and used patterns and block colours.
Japanese makers like Hokusai, who produced two-dimensional, non-naturalistic prints, would prove a significant inspiration to many Art Nouveau artists.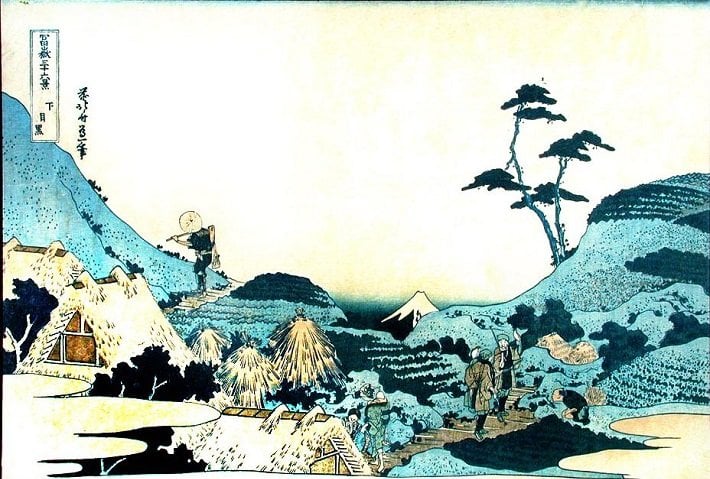 Landscape with two falconers, print by Japanese artist Hokusai
Finally, and most importantly, Art Nouveau designers were inspired by nature. The use of natural forms, including stylised floral motifs, leaf prints and animal forms, was largely what tied the style together.
In this sense the Art Nouveau had links to the Post-Impressionists, the Symbolists and the pre-Raphaelite painters, all of whom were interested in capturing the natural world and its forms. In its use of stylised natural forms, Art Nouveau also had links to the 18th century Rococo style.
What did the Art Nouveau style look like?
The Art Nouveau movement took inspiration from nature to produce innovative, modern designs. As a style, it was employed across a broad spectrum of the arts, and, unlike the traditional division of crafts, Art Nouveau artists often worked across these different genres.
Line was very important in Art Nouveau design. Whether in painting or in furniture-making, the outlines of images and objects were central to the Art Nouveau aesthetic.
These outlines most often took the form of long, flowing curves inspired by natural forms, such as the curves of tree branches, flower stems, stretches of coastline and the female body.
These naturally-inspired lines are sometimes referred to as 'whiplash lines': like the shape a whip makes when it is cracked, the curves are sudden and sharp – quite unlike the gentle scrolls of, say, the Rococo style.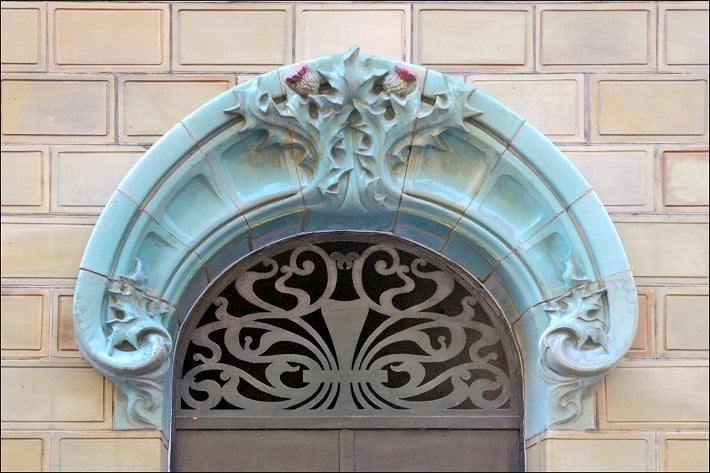 An Art Nouveau style doorway in Paris. Note the sharp whiplash curve decoration on the top of the door. © Jean-Pierre Dalbéra from Paris, France via Flickr
As well as line, Art Nouveau artists were also interested in colour. Again, the strong block colours of Japanese art are an influence here: Art Nouveau designers were less worried about the interplay of light and shadow, but rather in the bright, intense colours produced by the natural world.
The result is that most Art Nouveau decoration is flat in perspective, deliberately lurid in its choice of colour, and follows sharp, curved lines.
How did Art Nouveau influence the decorative arts?
The Art Nouveau philosophy considered the decorative arts to be of equal importantance to the fine arts of painting and sculpture. Many of the most innovative works of art in the Art Nouveau style weren't paintings, but vases, lamps and other furnishings.
The spearhead of decorative arts production in Europe was France's Ecole de Nancy, led by Louis Majorelle, which was formed as a collective for artisans and designers. Similarly, the Wiener Werkstatte (Vienna Workshop) became a centre for artisans in Vienna, Austria.
Indeed, collective and collaborative production was a staple feature of the Art Nouveau period: one of the Ecole de Nancy's stated aims was to create a total art style, based on harmony between all of the art trades: decorative arts, furniture, architecture and fine arts.
In Great Britain, an important centre of Art Nouveau decorative arts was London's Liberty & Co., run by Arthur Liberty.
The shop, now a famous department store on London's Regent Street, introduced new Art Nouveau ornaments, many of which were created by the shop's chief designer, Archibald Knox. Liberty's became so influential across Europe that Italians often referred to the Art Nouveau style as Stile Liberty.
Whilst Knox became an important designer of Art Nouveau silverware in London, other silversmiths across Europe also adopted the style into their designs, such as WMF in Germany and Georg Jensen in Denmark.
Art Nouveau and glass
As a material, glass encapsulated everything the Art Nouveau was about, in that it could easily be shaped to resemble natural forms and required a significant amount of individual craftsmanship to produce.
In addition, new techniques for colouring and acid-etching glass developed in this period, which allowed for a wide range of colours and decorations to be applied to the surface of glass. Stained glass was so closely associated with the Art Nouveau period that it adorned the windows of almost every single Art Nouveau inspired building of the turn of the century.
Encouraged by the development of these techniques, and also by the advent of electrical lighting, Art Nouveau glassmakers seized upon the lamp and quickly turned it into an iconic object.
The glass 'Tiffany lamp' was a classic Art Nouveau piece. Designed by the American artist Louis Comfort Tiffany, who also built the windows for Bing's Maison de l'Art Nouveau, the lamp's shape was inspired by the form of a mushroom, and featured a stained-glass shade decorated with colourful floral motifs.
The Tiffany Lamp, with a stained glass shade decorated with dragonfly motifs
In Europe, Art Nouveau glass lamps by makers including Emile Gallé and Daum featured more of these natural forms, especially flowers, peacock feathers, seeds, shoots and birds.
How did Art Nouveau influence architecture?
Architecture in the Art Nouveau style originated in Belgium in 1894 with the Hotel Tassel in Brussels designed by prominent Art Nouveau architect Victor Horta. Horta designed every detail of the building, down to the doorhandles, and made use of curving plant forms throughout the whole building.
Stairway of the Tassel House in Brussels, designed by Victor Horta. Note the sharp curve of the staircase, and the whiplash line decorations on the banister's railings.
Curved lines, known as hyperbolas and parabolas, were the predominant features of Art Nouveau architecture. Hyperbolas and parabolas are architectural terms for curved or domed features in a structure. Given Art Nouveau's fascination with curved forms, it was hardly surprising that these were incorporated into the design of buildings.
Unlike the buildings of the Baroque or Rococo periods, however, curved forms were not merely decorative ornaments, but integral to the support structure of a building.
In Britain, for example, the most famous Art Nouveau period building is the Glasgow School of Art, designed by one of the leading lights of the movement, the architect, artist and furniture maker Charles Rennie Mackintosh. His GSA building makes extensive use of these hyperbola and parabola features.
Facade of Charles Rennie Mackintosh's Glasgow School of Art. © Ham via Wikimedia Commons
Another important aspect of Art Nouveau architecture was its use of ceramic decorations on the exteriors of buildings. These could be seen, for example, on the Villa Majorelle in Nancy, designed by French architect Henri Sauvage for the important Art Nouveau ebeniste, Louis Majorelle.
Although the buildings in Brussels, Glasgow and Nancy were influential in the development of the Art Nouveau style, it was in Paris that the influence of Art Nouveau architecture could be most easily observed.
We've already seen the grand entrance to the Paris Exposition Universelle designed by architect René Binet, but it's Paris's 7th arrondissement that contains the highest concentration of Art Nouveau buildings. These were designed by architect Jules Lavriotte and made in collaboration with important ceramics manufacturers such as Alexandre Bigot.
Perhaps the most iconic pieces of Parisian Art Nouveau architecture, however, are the entrances to the Paris metro which were designed by architect Hector Guimard.
Entrance to the Porte Dauphine Metro station in the 16e arrondissement in Paris, part of the late 19th Century metro system designed by the Art Nouveau architect Hector Guimard
How did Art Nouveau influence furniture and interior design?
Art Nouveau interior design was closely related to Art Nouveau architecture, and in many cases the architect of the building would also be responsible for all its interior fittings and furnishings.
Art Nouveau interiors were easily recognisable by their parquet floors, floral wallpapers, and stained glass.
Art Nouveau bedroom by Louis Majorelle, at the Museum of the Ecole de Nancy. © Jean-Pierre Dalbera via Wikimedia Commons
Louis Majorelle was the most famous designer and furniture maker of the Art Nouveau period: his furniture was, of course, built with curved lines, and made to look as if it was growing organically, from the ground up. The above bedroom was entirely designed and built by Majorelle.
Art Nouveau furniture can also be identified by its use of exotic woods and marquetry.
This was particularly the case with the furniture designs of the celebrated makers Carlo Bugatti (Italian, 1856-1940) and Edouard Colonna (German, 1862-1948), both of whom exhibited at Siegfried Bing's Maison de l'Art Nouveau.
What did Art Nouveau jewellery look like?
Art Nouveau jewellery is particularly sought after and collectable today. What was distinctive about Art Nouveau jewellery was, unlike the jewellery of the past, it introduced a wider range of shapes and materials.
The jewellery of the past had very often simply been designed as cases to display diamonds. In Art Nouveau jewellery, foral motifs, dragonflies, wings and, of course, curved lines were the central features of its design, as were materials like glass, enamel, agate, opal and pearl.
Tiffany's was by far the most well-known jeweller in New York for most of the 20th Century, and this was in no small part due to the beautiful designs of its Art Nouveau inspired director, Louis Comfort Tiffany.
In France, jewellery designers such as Georges Fouquet, Louis Aucoc, and his apprentice Rene Lalique produced beautiful pieces of jewellery in a whole range of innovative designs and materials.
An ornate brooch with an image of a woman by Rene Lalique. © José Luiz Bernardes Ribeiro via Wikimedia Commons
Lalique, for example, blended together the crafts of glassmaking and jewellery, achieving excellence in both. Much of his jewellery contained glass elements, while he transferred the precision and delicacy he had learnt in the jewellery trade into his career as a manufacturer of crystal.
How did Art Nouveau influence painting and illustration?
Uninterested in the traditional view of painting as the highest form of art, Art Nouveau artists were best known for their decorative objects and architecture. Unlike previous artistic movements, painting wasn't the main medium in which the Art Nouveau aesthetic was expressed.
Art Nouveau was actually famous for having made graphic art and illustration more popular than painting, largely due to Art Nouveau illustrators' embrace of the colour lithography printing technique, which had been undergoing a revival since the 1870s.
That said, several important painters of the period were inspired by Art Nouveau ideas. Of these, Austrian artist Gustav Klimt was by far the most celebrated.
Klimt was especially noted for his abstracted depictions of female figures and silhouettes, a classic feature of Art Nouveau design.
'Wasserschlangen II (Freundinnen)' (1904) oil on canvas painting by Gustav Klimt
Female figures were interesting to Art Nouveau painters and illustrators because they allowed them to play with the curved, sinuous lines so characteristic of the style. Indeed, in many Art Nouveau illustrations, the female figure is abstracted and two-dimensional, so as to give greater emphasis on outline and form. In many instances, the effect is subtly (and sometimes not so subtly!) erotic.
Famous illustrators of the period inspired by the Art Nouveau included Aubrey Beardsley in Britain, Will Bradley in America, Henri de Toulouse-Lautrec in France, and Alphonse Mucha in Bohemia.
Aubrey Beardsley's bold, sinister black-and-white illustrations were especially famous for provocatively treating together themes of sex and themes of disease and death. In this sense he was also inspired by 1890s ideas of decadence, a term used to describe some of the art and literature in the 1880s and 1890s. It was closely related to the aesthetic movement, itself a big influence on the Art Nouveau.
Across the Channel, the illustrator Henri de Toulouse-Lautrec made waves in Paris for his lavish, humourous, and often erotic advertising posters which were displayed around Paris.
'Le Photographer Sescau' (1894), advertising poster by Henri de Toulouse-Lautrec
In a similar fashion, the posters of Czech illustrator Alphonse Mucha have become synonymous with the Art Nouveau period. Like Toulouse-Lautrec, Mucha's posters used female figures as their main motifs, often surrounded by garlands of flowers, most often coloured using vegetal brown and green shades.
These were some of the most important works of the Art Nouveau period, but they were hardly designed to be fine art. Here we have a classic feature of the Art Nouveau: its desire to unify 'great' and 'lesser' art; its desire to reside in the realm of the ordinary, the everyday.
How does Art Nouveau influence us today?
Its heyday may have been short-lived, but Art Nouveau lives on into the 21st Century. The modern discipline of graphic design had its origins in the poster designs of the Art Nouveau period. The designs of perfume bottles, jewellery and patterned fabrics owe an enormous amount to the Art Nouveau period, as do floral wallpapers, parquet flooring and stained glass panels.
And Art Nouveau lives on in the buildings and structures which make up the modern city: the London and Paris underground systems, for example, are monuments to the dreams of the Art Nouveau architects.
Yet in some senses, the Art Nouveau style was never made to last: it was a style very much of its historical moment, one that captured the heady cultural climate of the turn of the 20th century. This was a moment of rapid technological and social change, a moment when observers looked to the future instead of the past, a moment of wonder and anxiety in equal measure.
Playful but never frivolous, bold but never brash, Art Nouveau embraced all the contradictions of the fin-de-siecle. It aimed to be extraordinary but it saw beauty in the most mundane of places. It embraced nature but was at ease with industrial modernity. It emphasised the traditional, but it welcomed the new.
Art Nouveau offers us a unique insight into what the future looked like at the turn of the 20th Century. It is for this reason that Art Nouveau pieces will continue to fascinate for years to come.
We hope you enjoyed this blog on Art Nouveau. Nothing would make us happier than if you share this post with friends using one of the buttons below. Until next time, dear friends.