It's rare for an artist to be recognised as genius by his contemporaries, but Andre-Charles' Boulle's creations were so impressive that every nobleman in France in the 17th Century demanded to have Boulle pieces in their homes.
Described as 'the most skilful artisan in Paris' by Jean-Baptiste Colbert, a close advisor to the King, Boulle pioneered a new style of furniture-making, one which would alter the course of design history forever.
The style was known as 'Boulle style', or 'style boulle', and referred especially to the distinctive style of decoration which adorned his pieces. Many of the finest pieces of furniture made in the 19th Century and beyond updated Boulle's style.
Who was Boulle?
Andre-Charles Boulle (1642-1732) was the pre-eminent furniture maker in French history. He achieved the prestigious designation of premier ébéniste du roi (principal cabinetmaker to the King) in 1672 but had worked for the French royal family for his whole life.
His father before him, and his grandfather before his father, had been allowed the honour of having their workshop at the Louvre Palace. They too, were important makers of fine furniture in their own right.
It was only natural, then, that Andre-Charles, though trained as a sculptor and with aspirations to become a painter, would follow in their footsteps.
Boulle spent his life working on commissions for the French court, and especially on furnishing the new Chateau de Versailles under construction by the 'Sun King' Louis XIV in the late 17th Century.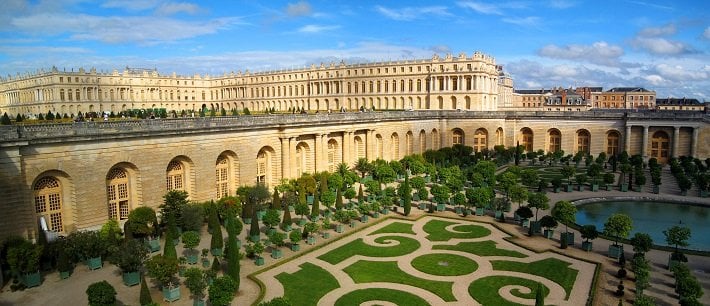 Louis XIV's immense Baroque Palace of Versailles, which Andre-Charles Boulle helped to furnish. © Wandernder Weltreisender via Wikimedia Commons
His designs curried favour with many of the Louis XIV's nobles, and later even with other European royals such as the English King George IV (1762–1830), who acquired a vast amount of Boulle's furniture.
Why is Boulle so highly regarded?
Intricacy, opulence, and masterful craftsmanship were the primary reasons why Boulle was so highly sought after during his lifetime and afterwards.
One of the more unusual features of his craft was that he made everything himself. Perhaps the greatest perk of the premier ébéniste job was that he was freed from the restrictions of the trade guilds, who controlled all production.
In the guild system, only cabinetmakers were allowed to make cabinets, only bronziers could cast bronze mounts, and only gilders could apply gold leaf to the finish. Boulle, on the other hand, was personally responsible for all of these stages of production.
Boulle was not only a master craftsman: he was a master craftsman in several different crafts.
As well as being astonishingly talented, Boulle flourished in the artistic climate of the day in no small part due to the desire of his royal patron, Louis XIV, for grandeur, excess, and opulence.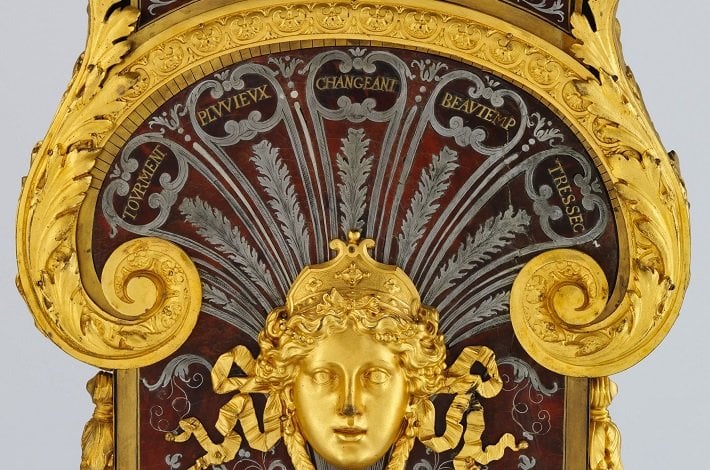 Detail of a clock with pedestal by Andre-Charles Boulle. Note the bronze casting, as well as marquetry decorations on this piece, all of which were completed by Boulle himself. © Metropolitan Museum of Art via Wikimedia Commons
Louis' need to display his wealth led to the development of a new style in the decorative arts, one which was based on expense and splendour. The style was known as Louis XIV style, a version of the European-wide Baroque style popular at the time, with distinctively French characteristics.
Boulle and Louis XIV
The age of Louis XIV in France (reigned 1643-1715) was, then, a great age of luxury in France. Of all the craftsmen working in Paris at the time, Boulle's was the most intricate, the most expensive, and used the most exotic, splendid materials: gold, silver, pewter, bronze, tortoiseshell, marble, and tropical woods such as rosewood, ebony and kingwood.
Some of the most famous items of Boulle furniture, for example utilise a striking black and gold colour scheme, achieved by contrasting ebony and gilt bronze (ormolu) which would ensure that his furniture would always stand out in a room.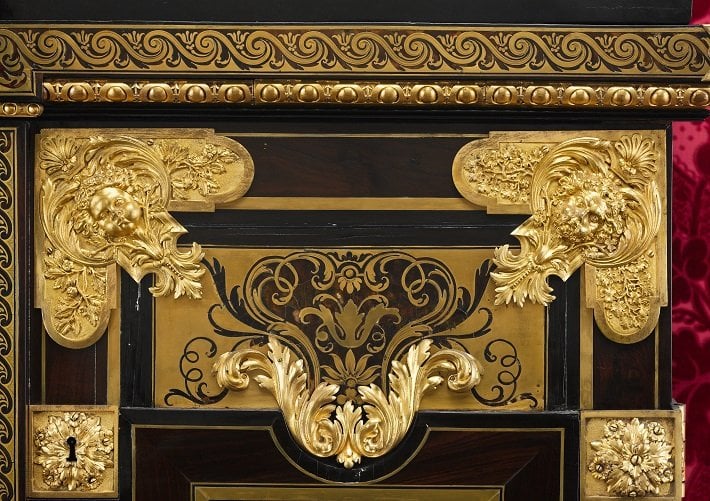 Detail from a Boulle cabinet with the distinctive black and gold colour scheme
The splendid, eye-catching effects that Boulle was able to achieve in his furniture would mean that he would quickly become a favourite of French nobles wanting to display their refinement and wealth.
What is boulle work?
Boulle's style of furniture was so distinctive that he gave his name to the intricate, scrolling decorations which came to characterise his work.
This decoration was known as boulle work, boulle marquetry, boulle inlay or sometimes, simply boulle.
Boulle work is easily recognisable both by shape and material: it is highly intricate and defined by its use of scrolls, floral and foliage motifs, and acanthus leaf designs.
Example of Boulle's famed inlay work, using tortoiseshell, pewter and brass. © Mauritiusboy via Wikimedia Commons
Interestingly, Boulle didn't actually invent this style of ornamentation. These complex, scrolling inlays had been seen in his father's work and other craftsmen of their era.
But what Andre-Charles Boulle did better than any of his predecessors was to use this technique to create more innovative and beautiful furniture than anyone else at the time.
His style of decoration was so influential that many other craftsmen through the ages have tried to replicate it. 'Boulle work' therefore doesn't only refer to furniture made by Boulle but also to furniture which uses this distinctive style of decoration.
Indeed, Boulle style, or boulle-work furniture became particularly popular in the second half of the 19th Century in France, when some of the finest antique furniture incorporated boulle work into its design.
Boulle work was achieved through the technique of marquetry, a cabinetmaking technique renowned for being one of the most intricate and difficult to execute.
Boulle marquetry
Marquetry refers to the technique of inlaying thin pieces of materials onto the wooden surface of a piece of furniture.
Boulle marquetry is a distinctive form of this technique which involves placing hand-cut pieces of precious material such as tortoiseshell, brass, bone and pewter to achieve the wonderfully complex, intricate effect detailed above.
You can see a demonstration of how inlays are created here.
The most common materials used to create boulle work are tortoiseshell and brass, which create a beautiful, mottled red aesthetic.
Boulle pieces, however, also use bronze, pewter, ivory, as well as different types of wood to create the same effect.
Premiere partie boulle inlay refers (in general) to brass on tortoiseshell, while contrapartie boulle inlay refers to tortoiseshell inlaid on brass.
Boulle (and those working in the boulle style) would often make pairs of cabinets in which one of the pair would utilise premiere partie, and another which would utilise contrapartie. This would have the effect of reversing the patterns on each one of the pair.
Pair of cabinets attributed to Andre-Charles Boulle, utilising the premiere partie and contrapartie brass and tortoiseshell marquetry technique. Note how the decorative pattern on each cabinet is the same, but the materials have been reversed.
Boulle furniture
Most Boulle marquetry could be found on large pieces of furniture. Boulle himself was renowned for his desks, as well as for his large, impressive armoires.
These would be the most important items of furniture in a room in the 17th and 18th Centuries, and would be used to display the most treasured possessions of their owner.
Some of Boulle's most famous pieces are on display at the Louvre, where he lived, and at the Wallace Collection here in Mayfair, as well as at museums internationally. These pieces inspired countless items of furniture made in the 18th and 19th Centuries.
One example of a stunning Boulle piece is known as the Mazarine Cabinet (known as such because it was housed at the Bibliotheque Mazarine in Paris), now on display at the Met Museum.
The Mazarin commode by Andre-Charles Boulle, on display at the Met Museum in New York. © Metropolitan Museum of Art via Wikimedia Commons
It was a totally unique, innovative side cabinet which Boulle first designed for the Grand Trianon at Versailles.
Its curved, bulging legs were unusual for furniture of the time. The effect of such furniture was to draw attention to itself in a room. Boulle style furniture is nothing if not an interior statement.
Boulle clocks and chandeliers
Aside from furniture Boulle was also responsible for the design of clocks and chandeliers.
Here the classic brass and tortoiseshell inlay was used to great effect, but on smaller surfaces which were harder and more intricate to decorate.
These pieces ranged from small, delicate table clocks to large longcase mantel clocks.
What is Boulle's legacy?
Boulle's legacy on the decorative arts has been magnificent, even though his own pieces have rarely survived outside of museums.
Although Boulle's pieces were the result of sublime craftsmanship, the intricacy of several thousands of pieces of inlay materials only held in place by glue means these pieces have not survived over time.
However, more recent pieces made in the Boulle style continue to be popular and use methods and materials designed to last. And they still continue to be as beautiful as the day they were made.