The ceramics galleries at the Victoria and Albert Museum in London are treasure-troves for porcelain enthusiasts. Though they are stuffed with iconic pieces like Ming vases, Dutch Delftware, and works by Sevres and Meissen, the vitrines of these galleries are also home to lesser-known gems.
Indeed, very occasionally, hidden away in this cornucopia, you might come across a plaque, teacup or small figure made at the Königliche Porzellan Manufaktur, or KPM.
KPM was a fundamental part of the landscape of the European decorative arts in the 19th Century, and was one of the most prolific producers of luxury porcelain in the period.
It was one of the most innovative and technologically sophisticated of its time, and its output rivalled the leading factories in Europe. So why is it not more famous?
What is KPM porcelain?
KPM, or Königliche Porzellan Manufaktur ('Royal Porcelain Factory' in English), is Berlin's oldest porcelain factory and Germany's second oldest. It was founded in 1763 and continues to produce porcelain to this day.
In the 18th and 19th Centuries, KPM specialised in the production of porcelain dinner services, figurines, painted plaques, vases and more.
They were particularly associated with the popular mid-18th Century Rococo style, and with its replacement by the more austere Neoclassicism of the early 19th Century.
Antique KPM porcelain wares from these periods are widely-collected and sought-after today.
Across the 18th and 19th Centuries, KPM was one of Europe's most consistently commercially successful ceramics enterprises. It also benefited from important financial backing: first from the Prussian crown, and later from the unified German state.
It was because of its close associations with the state that the name KPM – along with Meissen – would become synonymous with German porcelain, just as with Sevres in France, Royal Worcester in England and Royal Vienna in Austria.
A history of KPM porcelain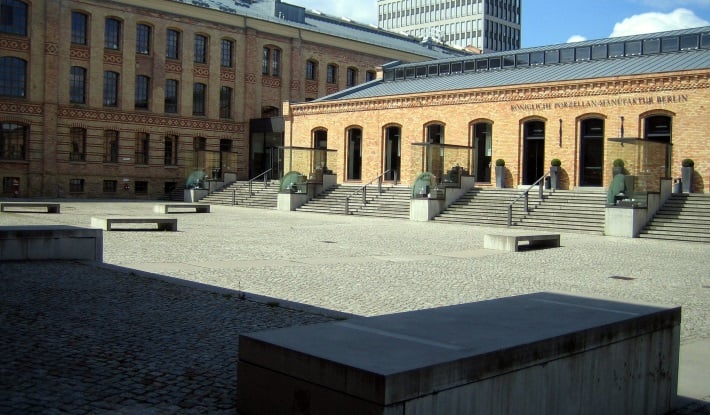 KPM's present-day factory and museum near the Tiergarten, Berlin. © Manfred Brueckels via Wikimedia Commons
Unlike its cousin factories at Meissen, Sevres, and Vienna, attempts to create a porcelain factory in Berlin did not get off to an auspicious start. The first two factories would both go bankrupt before finally being taken over directly by King Frederick II of Prussia in 1763.
Berlin vs Meissen
The real origins, however, of KPM – as with all European porcelain – lie in the Saxon town of Meissen, the first place in Europe to discover the secret to producing Chinese 'white gold'.
All later 18th Century European porcelain manufacturers were born out of an attempt to copy or steal this secret formula, known as the arcanum.
Despite both Meissen and Berlin being located in modern-day Germany, the arcanum could not be shared between the two places because of the peculiarities of the country's history.
In the 18th and 19th Centuries the area we now call Germany was in fact several different countries: Berlin was the capital of the Kingdom of Prussia to the north, while the town of Meissen was part of the Electorate of Saxony further south. The two regions were rivals.
By the time that the two regions unified in 1871, they both contained long-established porcelain factories: this is the reason why Germany today can boast having both KPM and Meissen as its foremost ceramics manufacturers.
Early porcelain in Berlin
The first attempt to found a porcelain factory in Berlin came in 1751, with a wool merchant by the name of Wilhelm Caspar Wegely. Wegely was somehow in possession of the arcanum and proposed the idea of a ceramics factory to King Frederick II of Prussia.
The King agreed, and granted Wegely a number of royal privileges, including exemption from import duties and the assurance of a monopoly in the city. He began work on building a factory on the Friedrichstrasse in Berlin.
Wegely's factory soon fell apart, however: financial difficulties owing to the Seven Years' War meant that royal financial backing was no longer so secure. Moreover, during the war, the Prussian army had occupied the town of Meissen, and so the King switched his focus to the porcelain produced there.
By 1757 Wegely was bankrupt, and the factory in ruins. It was rescued by the enterprising merchant Johann Ernst Gotzkowsky who bought the stock of porcelain, and hired Wegely's chief modeller, Ernst Heinrich Reichard.
Gotzkowsky moved the factory to the Leipziger Strasse, and made a number of high profile appointments, including Friedrich Elias Meyer, a pupil of the legendary modeller Johann Joachim Kändler at Meissen.
Unfortunately Gotzkowsky would meet the same fate as Wegely. Due to the ruinous financial situation of the war, he could not obtain support from the state, and in 1762 the factory closed once more.
The Royal Porcelain Factory, Berlin
Dispirited by the failure of Berlin's porcelain industry, King Frederick II – also known as Frederick the Great – took the drastic move of taking over the factory himself.
He poured large sums of money into the new factory, and renamed it the Königliche Porzellan-Manufaktur Berlin ("Royal Porcelain Manufactory Berlin"). He also granted the factory the use of its now-famous emblem, his royal sceptre.
The new factory was also surprisingly progressive in its management. Workers benefitted from regular working hours, decent wages, pensions, and communal healthcare – all were practically unheard of in the mid-18th Century.
Rococo era KPM porcelain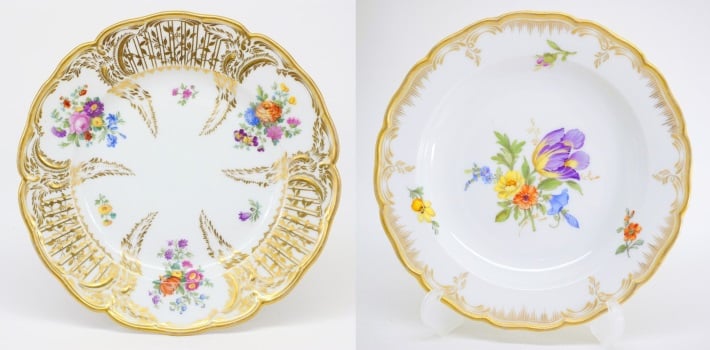 KPM's Reliefzierat design (left) together with its slightly later Neuzierat (right) design
Frederick II was a fan of the new Rococo style in the decorative arts, and had his palaces designed with furniture, decorations and paintings in the new style.
One of his firsts acts as the head of the new KPM factory was to commission a dinner service to match his exuberant interiors: the Reliefzierat, as it was known, was commissioned with gilded relief ornamentation so that it would match the stucco reliefs in the dining rooms at the Neues Palais in Potsdam.
Other famous dinner sets from KPM's Rococo period include the Neuzierat, Neuglatt, and Rocaille designs – all of which were commissioned by Frederick II for his palaces or to be given as diplomatic gifts. These designs are still in production today.
One of the more groundbreaking achievements of the KPM factory in this early period was their development of a technique to create a light blue porcelain glaze – in contrast to the harsher, darker cobalt blue which had predominated previously.
This new colour was known as bleu mourant ('dying blue') and, again, was developed in order to match the interiors of Frederick's palaces in Potsdam. It would be used to decorate the Neuzierat dinner service.
Neoclassical KPM porcelain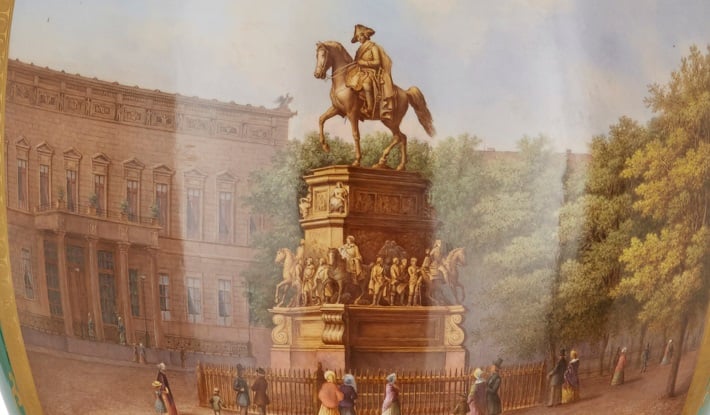 Detail from a KPM porcelain vase showing the veduta decoration, German, c. 1850
Frederick the Great died in 1786, and under the direction of his successor Frederick William II (his nephew) the factory would change stylistic direction to embrace the emerging Neoclassical style.
Several changes took place at the factory during these years: they built new kilns in order to maximise both efficiency and quality; they developed new shades of green; and in 1797 they installed Berlin's first steam engine.
KPM also began to employ important German artists to model and paint their wares: these included the artist Karl Friedrich Schinkel (1781-1841), sculptor Johann Gottfried Schadow (1764-1850), and sculptor Christin Daniel Rauch (1777-1857).
Schadow, for example, made the original plaster model for KPM's famed Prinzessinnengruppe; while Rauch designed a number of important Neoclassical style vases for the factory; and Schinkel designed a famous 'sugar basket' for Queen Louise of Prussia.
It was also in this late 18th Century and 19th Century period that KPM became renowned for its veduta paintings (highly-detailed, large-scale land, town and seascapes) which it applied to porcelain plaques, tableware and vases. You can see a magnificent example of this in the picture above.
These veduti often depicted images of Berlin, and as such became important Grand Tour souvenirs as well as useful diplomatic gifts. KPM's beautiful veduti were crucial in securing the reputation of Berlin as a city in the 19th Century.
KPM in the 19th Century
KPM porcelain plate with veduta of Magdeburg Cathedral, c. 1844
Across the rest of the 19th Century, KPM continued to innovate and produce fine porcelain dinner services, vases, and figurines.
The factory also continued production of older designs and pieces which had become popular among Europe's ruling class.
One particularly distinctive output of the KPM factory in the 19th Century was the wide range of porcelain plaques it made.
Many of these were stunning replicas of Old Master paintings, as well as important paintings by German artists. Some were even original designs, and all KPM plaques were painted by the foremost porcelain copyists of the day.
Art Nouveau, Bauhaus and modern KPM porcelain
Two Art Nouveau era vases designed by KPM director Theodor Schmuz-Baudiss Bröhan Museum, Berlin, Germany. Left: Floral vase, 1914; right: floor vase with peacock, 1906.
KPM continued to innovate throughout the 19th Century and into the modern era. In 1867, the factory moved owing to the construction of the new Prussian parliament.
Now located on the river by the Tiergarten park, the new factory could have all of its goods transported across the city by boat.
In 1878, KPM established a Chemical-Technical Institute, under the control of the chemist Hermann August Seger, in order to study the science of porcelain more closely.
It was as a result of this development that KPM positioned itself at the forefront of technical innovation in ceramics, developing new glazes and enamel colours which would be used to create new designs.
These technological developments coincided with the development of the new Art Nouveau style (or Jugendstil as it was known in Germany). KPM's great Jugendstil period came under the direction of Theodor Schmuz-Baudiss from 1908, who used Seger's new glazes to create some exceptional art nouveau pieces.
As the 20th Century progressed, designers at KPM began to be influenced by the ideas of the Bauhaus and so-called 'New Objectivity' schools of architecture and design. KPM's products developed accordingly.
The rest of the 20th Century was a turbulent time for the factory: its buildings were destroyed in an air raid of 1943, and did not return to their Tiergarten site until 1957, when production continued.
How to identify KPM porcelain
Impressed KPM mark on an antique porcelain plaque
KPM products have, then, undergone significant changes in styles and techniques . There is no one unifying decorative style in KPM products which would mark them out as recognisably 'KPM'.
KPM pieces are, however, meticulously stamped and marked to confirm their authenticity.
What to look out for is shown below.
KPM porcelain marks
Table showing different porcelain marks for KPM
The clearest marking on a KPM porcelain piece will always be the sceptre mark, which has been in use since the factory's founding.
Pre-KPM pieces produced in Wegely's factory will be marked 'W', while those produced in Gotzkowsky will be marked 'G'.
Confusingly, some of the Meissen factory's earliest markings on their pieces (before about 1730) contained the letters 'K.P.M', or Königliche Porzellan Manufaktur (Royal Porcelain Manufactory), since Meissen was also a royal factory. These marks should not be confused with those of Berlin's Königliche Porzellan Manufaktur.
From 1837, the letters 'KPM' were added underneath the sceptre mark, and in the mid-19th Century the sceptre would often appear with an eagle mark.
Marks such as the sceptre, eagle and KPM lettering will normally be hand-painted in cobalt blue on white porcelain, and in brown on painted porcelain. The exception to this is 19th Century porcelain plaques, where the mark (normally a sceptre with the letters 'KPM') will be impressed rather than painted.
As well as the KPM trade mark, KPM pieces will also be painted with an imperial orb mark, coloured according to what type of decoration is on the piece.
A red orb indicates floral painting, figurative scenes and landscapes, while a green orb indicates any other type of decoration; and a blue orb indicates decoration on pieces which have been fired at high temperatures (tip: pieces with a blue orb are dishwasher safe!).
Finally, any painted scenes will also bear the signature of the painter, normally in brown.
KPM porcelain art and antiques
Owing to its 250-year long history, the KPM factory has produced a vast amount of porcelain for a wide variety of clients.
Some designs were produced as one-off commissions, while others have been in permanent production for the mass market. The most famous KPM products and designs are outlined below.
KPM porcelain tableware
Art Nouveau style KPM porcelain teacup, 1902, designed by Adolf Flad
KPM's dinner services were their most famous and successful products. In the 18th Century, it would be dinner services that the King Frederick II would commission from the factory, and it was in creating new designs for tableware that KPM's early innovations occurred.
Frederick ordered 21 dinner services in total: each one had up to 500 pieces and could accommodate 36 guests.
The most famous 18th Century KPM dinner services were the Rocaille, Neuzierat, Neuosierand and Neuglatt services, all of which were commissioned by Frederick. Neuzierat was famous for the 'bleu mourant' shade it used; Rocaille for the Rococo-style ornamentation; Neuosier for its wickerwork-like structure (from the French 'osier', meaning 'willow').
Perhaps the great success of KPM's Neoclassical period was the dinner service they designed for Peter von Biron, the Duke of Kirland in 1790. Once again, this service, known as Kurland, remains in production today.
KPM porcelain figures
Figures from KPM's famous 'Wedding Procession' set, c. 1905
Figurines were also an important early output of the KPM factory. Sometimes these would be made as part of its important dinner services, either as table decorations or centrepieces.
From the late 18th Century, KPM also specialised in producing small animal figurines for the wider market.
Some of KPM's more famous works of sculptural porcelain include the Prinzessinengruppe which was designed by Johann Gottfried Schadow, and was produced in 1795 to commemorate the two Royal Weddings which took place in Prussia that year.
Another famous figural work by KPM is known as the Wedding Procession, picture above, and was completed in 1908 in order to commemorate the 1905 wedding of the Prussian Crown Prince Frederick William.
The centrepiece was originally designed by the sculptor Adolf Amberg to be made in silver, but the idea was abandoned until picked up later by Theodor Schmuz-Baudiss, the director of KPM.
The figurines were produced until the 1930s, and the original piece won KPM a gold medal at the 1910 World's Fair in Brussels.
KPM porcelain plaques
Pair of KPM porcelain plaques depicting portraits after Rubens and Rembrandt, 19th Century
Porcelain plaques – often copying Old Master or more recent German paintings – were a significant part of the factory's output in the 19th Century.
KPM had an entire department dedicated to copying paintings onto porcelain, and these would become extremely popular items among the growing consumer class, since they offered an alternative to the cheap, poor-quality painted Old Master copies available on the market.
The bigger the plaque, the more technically complex it was to produce, and so the more valuable it was.
KPM porcelain vases
KPM white porcelain vase modelled by Julius Wilhelm Mantel, c. 1860
Alongside tableware and figurines, vases were the most-commonly commissioned items to have been made by KPM.
They took a range of different styles and shapes, and many of these were exclusive to the manufactory.
For example, one of KPM's most famous vase designs is the Trompetenform vases made by the sculptor Karl Frierich Schinkel in around 1820.
Conclusion
Many of KPM's most loved vases, tableware, plaques and figurines are still in production today and KPM continues to be a prestigious name in the world of porcelain. For the most part, the present-day factory's output consists of reproductions of older, famous tableware designs.
Occasionally, KPM works with leading designers to produce new pieces for the mass market.
The trade in antique KPM, however, continues to thrive: 18th Century pieces sell for vast sums at auction while 19th Century plaques, figurines and vases are popular collectors' items.
What is so surprising about these antique pieces is how well they have stood the test of time: a fact which affirms the dedication and craftsmanship of the factory's work.
You can browse our collection of antique KPM works here. If you would like to know more about the history of porcelain, read our blogs on Sevres and Meissen.