Who was Madame de Pompadour?
Madame de Pompadour was the most famous and most influential mistress to King Louis XV of France. She was a member of the French court and is widely celebrated for being the King's most intimate advisor. However, she had far more humble beginnings.
Madame de Pompadour was born Jeanne Antoinette Poisson in 1721 to middle-class 'bourgeois' parents in Paris, France. Her father, a financier, was forced to flee the country due to financial crimes when Jeanne was just four years of age, and the wealthy tax collector Le Normant de Tournehem became her legal guardian.
Jeanne's mother, Madeleine de la Motte, and her new guardian, Tournehem, sought the very best education for the little girl, who was pretty, charming and precociously intelligent from an early age.
Jeanne suffered from poor health as a child; something that would plague her throughout her life. She was sent home from school to recover, and her mother took her to a fortune teller who foresaw that little Jeanne would grow up to 'reign over the heart of a King'.
Her mother and Tournehem took heart in this prediction, and Jeanne became known as 'Reinette', which means 'little queen'.
From then on, Jeanne was given a private home education to cultivate her in the arts, dancing, painting, literature and poetry as would befit a suitable companion to a King of France.
In these areas, she excelled. She was married to the nephew of Tournehem, and she promised her new husband that she would never leave him – except for the King, when, she hoped, he would finally come calling.
In her early life, Jeanne attended many 'Salons' – meetings hosted by prominent members of the cultural elite in Paris, where they would discuss art, literature, philosophy and culture. Moving in these circles, she made many famous and important friends, which would later prove instrumental to her successes in life.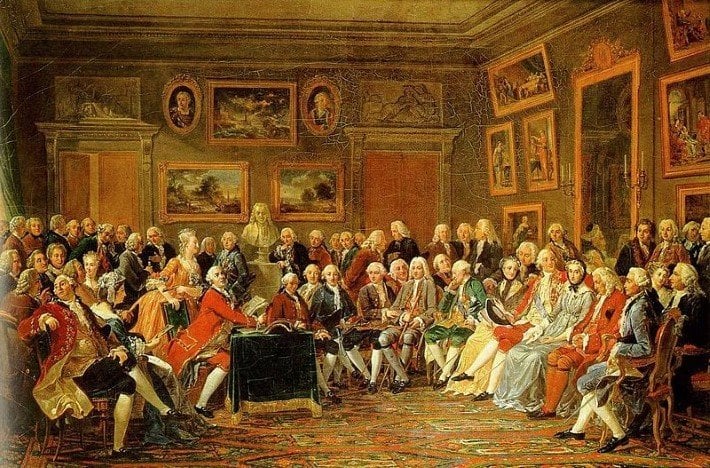 A reading of Voltaire's L'Orphelin de la Chine (a tragedy about Ghengis Khan and his sons, published in 1755), in the salon of Madame Geoffrin, by Anicet Charles Gabriel Lemonnier, 1812. © Wikimedia Commons.
Why is Madame de Pompadour famous?
It might seem that acting upon a fortune tellers prediction so strongly might have been quite a gamble.
However, Madame de Pompadour is famous because she did indeed manage to become the mistress of King Louis XV, who reigned over France from 1715 until 1774.
Louis XV had many mistresses - beautiful young women who were companions of the King and offered him friendship, entertainement, parties and sexual relations. At any one time there was one chief 'Official Mistress' - the maîtresse-en-titre - and there could be several more less important or less prominent mistresses at the same time.
Some mistresses also engaged lightly in politics and the arts, which was made possible because the role of a mistress was recognised as an official position in the French court.
However, Madame de Pompadour set herself apart from all Louis XV's other mistresses by forging such a strong bond with the King that she became more than a mistress. She became Louis XV's most prominent advisor and friend, exceeding that of even his wife, Queen Marie Leszczynska.
And Madame de Pompadour used this position, as well as her good education, to exert her powerful influence across the artistic sphere, helping to develop distinctive styles and trends across painting, architecture, the decorative arts and even fashion.
How did Madame de Pompadour meet King Louis XV?
Despite being married, Madame de Pompadour, or Jeanne as she was known then, actively pursued King Louis XV. It is thanks to her persistence and her belief in the fortune teller's prediction that Jeanne and the King were acquainted for the first time.
After her marriage, Jeanne and her husband moved to an estate at Étiolles, which was near the royal hunting ground of the King.
When following the royal hunting party in 1744, she drove her carriage right in front of the King to catch his eye. It is reported that on one day she drove in a pink carriage, wearing a blue dress, and the next day in a blue carriage, wearing a pink dress!
Louis XV had already been told of Jeanne thanks to her prominence in the Parisian salons – and also thanks to her charm and beauty. But after this encounter, he sent her a gift, and the prophecy of the fortune teller was set into motion.
Conveniently for Jeanne, in December of 1744 the King's current mistress, Madame de Chateauroux, died, leaving the position open.
The King was then expected to look for a new mistress, and in February of 1745 he invited Jeanne to a masked ball at Versailles. At this ball, the King publicly declared his interest in Jeanne.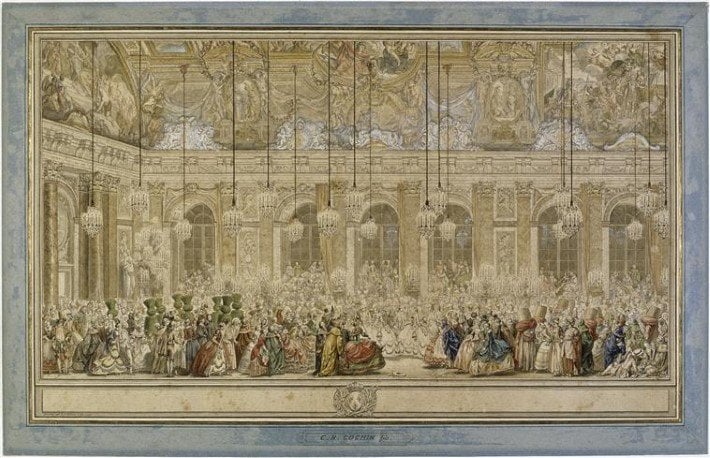 The masked ball by Cochin, known as the 'Yew Tree Ball' of 1745 in which Jeanne Poisson was first presented to King Louis XV. It was called the Yew Tree Ball after the King's outfit - along with seven other courtiers he was dressed as a yew tree. © Wikimedia Commons.
Life as a Royal Mistress
In the summer of 1745 Jeanne's prophecy became true and she became the Official Mistress - the 'maîtresse-en-titre' - of King Louis XV.
But, she had to make several important changes to do so. She had to seperate from her husband, and in order for her to be installed in apartments at Versailles, the King purchased her a new official title of nobility: the Marquise de Pompadour, and she is most commonlu referred to as Madame de Pompadour.
Madame de Pompadour made sure to forge a good friendship with Louis XV's wife, Queen Marie Leszczynska. It is almost unthinkable today that a mistress and a wife would be friends, but it was court protocol at the time.
Madame de Pompadour very quickly became a success and she was also informally known as Court Favourite the Marquise. Her formal education, her charm and her wit enabled her to entertain and challenge the King to such an extent that, as well as being a mistress and there for the King's pleasure, she served a role not dissimilar to that of a prime minister.
They spent many, many hours, together, and Madame de Pompadour became Louis XV's greatest friend and confidant. He trusted her, and she amused him, travelling with him to his various estates.
However, by 1750, Madame de Pompadour's health was suffering so much so that she was no longer able to continue sexual relations with the King. Nonetheless, she took on a position of 'friend of the King', and Louis XV remained devoted to her and treasured her close friendship.
Her prominence meant that her position grew in rank through the years. She became a Duchess'in 1752, and in 1756 she was graced with the most noble rank for a lady at court - lady-in-waiting to the Queen.
The relationship between Madame de Pompadour continued much the same until her premature death in 1764 at the age ofjust 42, which was brought on by her persistent ill health.
How did Madame de Pompadour influence the arts?
The arts were the shared passion of both Louis XV and Madame de Pompadour, and their greatest and most successful endeavour together. She used her position and her central role in Parisian culture to champion the French arts, from painting to architecture, the decorative arts, literature and even fashion.
Thanks to her extensive education, Madame de Pompadour quickly fell into an informal role as a 'minister of culture' of sorts. Under her capable hands, the arts flourished, and this is perhaps the greatest legacy she established as a royal mistress.
What was the influence of Madame de Pompadour on painting?
Painting, and in particular, portraiture, was arguably the most important artistic medium for the monarchy and their circle in the 18th Century.
Paintings by famous artists would be exhibited to Parisian high society at the Salon of the prestigious Royal Academy. They would be covered by the blossoming press and the burgeoning art critics, and it was possible that images of the monarchy would reach far and wide in this way.
Madame de Pompadour was one of the greatest royal patrons of portraiture. Her patronage made her responsible for securing the fame and good fortune of the most famous painters in the Rococo style of the 18th Century.
Madame de Pompadour personally commissioned portraits from Francois Boucher (French, 1703-1770), Carle van Loo (French, 1705-1765), Jean-Marc Nattier (French, 1785-1766) and Francois-Hubert Drouais (French, 1727-1775).
Left: Portrait of Madame de Pompadour by Francois Boucher, 1756. © Manfred Heyde via Wikimedia Commons. Right: Portrait of Madame de Pompadour at her Tambour Frame by Francois-Hubert Drouais, 1763-64. © Web Gallery of Art via Wikimedia Commons.
These portraits of de Pompadour are amongst the most famous works by these artists, and the paintings and the artists have been widely celebrated since as the epitome of the delicate, feminine style she championed.
De Pompadour was not just a subject, but an active collaborator in the portraits and paintings that she commissioned, becoming involved with the composition and depiction of the painting. This set her apart from most patrons of the time.
In all of her portraits, Madame de Pompadour is represented as an erudite, beautiful and fashionable patron of the arts, either engaged in writing, embroidery or cultivated activities suitable for a member of elite society.
Characteristics of paintings and portraits influenced by Madame de Pompadour contributed toward the overall French Rococo style of painting. They favoured light, pastel colours, whimsical subjects derived from the Classical and mythology, use of florals, billowing compositions and overall delicacy.
Left: The Bath of Venus by Francois Boucher, 1751. © Wikimedia Commons. Right: The Lovers (Die Liebenden) by Jean-Marc Nattier, 1744. © Wikimedia Commons.
Whilst the artists that became associated with Madame de Pompadour did become very popular, the Rococo style of painting that she patronised was also heavily and publicly criticised by leading writers of the day. They asserted that the style was too 'feminine' and could not be taken seriously, for it lacked dignity and historic importance.
However, in hindsight these remarks did little to fetter the legacy she created for artists and Rococo painting, which has been celebrated ever since.
How did Madame de Pompadour influence the decorative arts?
Madame de Pompadour was royal mistress and court favourite during a time of excellence across the French decorative arts. As court favourite, she enjoyed a celebrity type status and her personal choices held a great deal of influence across France, society, and, especially, King Louis XV.
She took an active involvement in the furnishing and refurnishing of her apartments – at Versailles and at other royal residences – in the light-hearted, elegant, French Rococo style, which was also known by the name of her lover as the Louis XV style.
However, Madame de Pompadour's single most significant contribution to the decorative arts was her involvement with the establishment of the Sevres Porcelain Manufactory. With her royal patronage, the Sevres manufactory has been one of the most famous names in the decorative arts and fine porcelain internationally ever since.
Pot-pourri vases in the shape of ships by Sevres Porcelain Manufactory, 1761. © Waddesdon Manor via Wikimedia Commons.
The story begins in 1738, when the Manufacture de Vincennes was conceived with the support of Madame de Pompadour and Louis XV to rival the successful porcelain manufactories in Meissen and Chantilly.
In 1756, with the support of her royal lover, Madame de Pompadour bought and moved the manufactory to an establishment in Sevres, which was near to her chateau at Bellevue, just outside of Paris, so that she could take a more active role overseeing the production.
Due to the relocation, the Manfacture de Vincennes took on the now famous name of the Manufacture Nationale de Sevres, known widely today as Sevres.
Consequently, thanks to her involvement and patronage, the Sevres manufactory received a royal warrant and has flourished ever since, providing many jobs and promoting national pride in the region. Furthermore, artists at Sevres developed a new pink colour for use on their wares, and named it 'Rose Pompadour' in honour of their royal patron.
Sevres Chinoiserie-inspired elephant head vases showing the 'Rose Pompadour' pink ground in the detailing, 1756-1762. © Walters Art Museum via Wikimedia Commons
What was Madame de Pompadour's influence on architecture?
Through architecture, Madame de Pompadour contributed to the importance of France as a cultural centre for the arts in Europe.
She appointed her brother, Abel Poisson, to the title of the Marquis de Marigny. She also gave him the position of 'General Directeur des Batiments', which was an official government role that saw the new Marquis work alongside Madame de Pompadour and King Louis XV himself to plan and build many important French monuments and buildings.
Under this direction, the famous École Militaire and the Place Louis XV – which is now titled the Place de la Concorde in the centre of Paris – were built.
Building of the École Militaire in Paris, France, c. 1750. Note the Neoclassical columns, as well as the delicately curved roof and carved details around the portico. © Wikimedia Commons.
They also built Madame de Pompadour's favourite residence, the Chateau de Bellevue, where the Sevres manufactory was moved, as well as a huge new wing for the Chateau de Fontainebleau, most of the Chateau de Compiegne, and many pavilions and summer houses.
Madame de Pompadour and her brother were also responsible for the building of the Petit Trianon at Versailles, which would later become a favourite home of Queen Marie Antoinette.
The period during which these buildings were built was dominated by the Rococo style, which did not extend fully to architecture, and held more influence over the decorative arts, painting and sculpture instead. However, the buildings which were influenced by Madame de Pompadour all share similarly designed Classical characteristics.
This foregrounded the mid-18th Century move toward the Neoclassical style, which would later dominate architecture in ways that the Rococo never did.
In this way, they featured columns, symmetrical design and an overall vastness, but were also elegantly ornamented with light, simply charming details.
The Petit Trianon at Versailles, which features light, Neoclassical details. © Colocho via Wikimedia Commons
How did Madame de Pompadour influence literature?
One of Madame de Pompadour's greatest lifelong passions, inspired of her early time spent in Parisian salons, was literature. Louis XV did not share her endless enthusiasm for the subject, but Madame de Pompadour was still exceptionally influential through her patronage of literature during her period of importance.
During the time that Madame de Pompadour was a prominent figure in Parisian Salons, before becoming a Royal Mistress, she had befriended famous French writers such as Denis Diderot and Voltaire. When she gained royal influence, she was instrumental in some of their greatest achievements.
Madame de Pompadour persuaded King Louis XV to appoint Voltaire as royal historiographer in 1745, and he was given lodgings at the Palace of Versailles. There, he wrote a book about the reign of Louis XIV as well as many other famous works.
When Madame de Pompadour died in 1764, Voltaire wrote: 'I am very sad at the death of Madame de Pompadour. I was indebted to her and I mourn out of gratitude.'
Madame de Pompadour also sponsored and protected Denis Diderot, who is famous for editing and compiling the much disputed 'Encyclopédie'.
The Encyclopédie was published between 1751-1766 and was aimed to be a general encyclopaedia that represented the philosophical movement of the Enlightenment. It aimed to change the way that people think, and to offer people a way to inform themselves, and to know things about the world.
It was a seminal and uniquely forward-thinking publication of the time, for it was not designed to be accessible to only the elite, but anyone capable of literacy. It was also illustrated, and so encouraged a greater participation.
Left: page from the Encyclopédie showing the explanation of a carpentry workshop and the tools. The images were numbered with a key, and explained in text on the opposing page. © Wikimedia Commons. Right: Illustration from the Encyclopédie showing the workshop process of making blown class. Similarly, the illustration is numbered with a key, and explained in text on the opposing page. © Wikimedia Commons.
However, it challenged religious authority because it wrought doubt on the Bible, and so it was heavily suppressed and condemned by the Church and its supporters.
With the financial and public support of Madame de Pompadour, it managed to succeed. It later played a key role in the intellectual stimulation that lead to the French Revolution of 1792.
Today, it offers a fascinating insight into 18th Century sciences, technologies, social structures, politics and philosophies as well as influencing bodies of knowledge, such as Wikipedia or the Encyclopaedia Britannica, which are the product of the collaborative efforts of many writers.
How was fashion influenced by Madame de Pompadour?
It was important for Madame de Pompadour, a young and beautiful woman who was frequently seen with the King, to be wonderfully dressed for all occasions.
However, as well as inspiring trends for fine, floral dresses in silks, satins and embroidery with large, flowing skirts and ruched, ballooning sleeves, her greatest fashion legacy is one that still influences us today.
Madame de Pompadour was famous for the 'pompadour', which was a hairstyle that saw the hair swept up and away from the face over the top of the head, resulting in a large curve above the forehead.
A famous variation of the 'pompadour' has evolved into the modern day 'quiff' hairstyle, iconically associated with the vintage culture of the mid-20th Century, and the American rock and roll singer Elvis Presley.
Left: Line illustration of the 'Pompadour' by Pearson Scott Foresman. © Pearson Scott Foresman via Wikimedia Commons. Right: Elvis Presley with a quiff, or 'pompadour' variation, 1954. © PresleyPromo54 via Wikimedia Commons.
What is the legacy of Madame de Pompadour?
The legacy of Madame de Pompadour extends across all spheres of the arts. Her erudition, charm and wit, combined, meant that her contribution to French culture and the arts has been celebrated ever since.
Indeed, thanks to her, we recognise Sevres porcelain as one of the most important of all antique collectibles. We celebrate the concept of free knowledge, as promoted by the Encyclopedie. And we visit the many great French landmarks built under her influence and direction.
Madame de Pompadour is an excellent example of a woman who not only survived, but thrived thanks to her intellect and brilliance, in an 18th-Century society that was dominated by men.