Tea-drinking today is an unceremonious ritual. It comes in bags, it's mixed with milk, and it's gulped from mugs. Tea is tarry-black or beige. Tea is stirred, dunked, slurped and swallowed, never savoured or sipped.
But it hasn't always been so. For over three hundred years tea in Europe has been a drink – and an activity – associated with the highest luxury. For years, only the richest in society could afford it.
It was only natural, then, that there should be suitably luxurious objects to accompany this luxurious drink. Ever since the dawn of tea in Europe, tea sets have been used to display the status and splendour of their owners.
Antique tea services have always been more about art than function. In each era, the major craftsmen of their day have taken up the challenge of making ever more impressive, opulent and magnificent tea sets.
In this blog we'll be exploring this fascinating history, taking a look at six iconic tea services which have, in their own time, captured the essence of tea-drinking.
1. Meissen Porcelain 'Half Figure' Chinoiserie Tea Service, c. 1723-34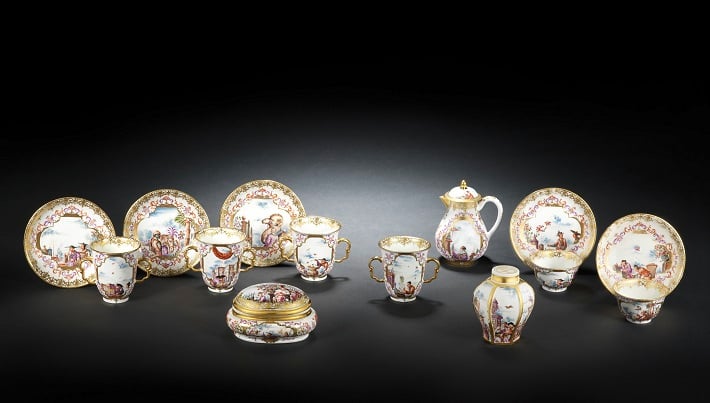 Meissen's famed 'Half Figure' porcelain tea set, c. 1723-34. © Bonhams
Although tea had been an integral part of Chinese and Japanese culture for centuries, it was only introduced to Europe in the 17th Century, when it was a seriously expensive commodity, only available to the very few.
Tea was imported all the way from China, and like China, it was steeped in exotic intrigue. Tea was one element in a broader European fascination with all things Chinese in the 17th and 18th Centuries.
Wealthy Europeans not only revered Chinese tea, but Chinese craft and Chinese culture more generally. In particular, the discovery of Chinese tea by European travellers was intimately linked to the discovery of Chinese porcelain, which at the time no-one in Europe knew how to make.
After decades of attempts, the secret to fine Chinese porcelain was finally cracked by the ceramicists in the German town of Meissen in 1708.
It was perhaps unsurprising, then, that some of the very first 'China' pieces they set about making were vessels for tea-drinking. It was perhaps even less surprising that they decided to decorate these pieces in the style of Chinese pieces.
This style of decoration, known as chinoiserie, was incredibly popular at the time.
What's particularly interesting about this set is that the shape of the pieces are much closer to what we would associate with Chinese tea vessels than European ones: the cups all have two handles, rather than one, and the set comes with two tea bowls (like a Chinese chawan), used for infusing the tea leaves before serving.
This fantastic set is one of Meissen's most important and elaborate sets from the early 18th Century. Completed in the 1720s, the set was painted by Johann Gregorious Höroldt, Meissen's most accomplished porcelain artist of the day.
It is known as the 'Half Figure Service' because of the distinctive, intricate half-length images of Chinese men and women which decorate the exterior of the pieces.
The piece is also made from the very finest porcelain: thin, crisp and with a stunning translucency.
And yet, although this set can tell us a lot about the origins of tea drinking in Europe, what's perhaps most intriguing about it is that it was probably never used to drink tea: being of such high quality, this set was designed to be displayed, rather than used.
From tea's very earliest days in Europe, then, tea sets have been objects of luxury as much as they have been objects of function.
2. Wedgwood 'No Stamp Act' Creamware Teapot, 1766-70
'No Stamp Act' creamware teapot, produced in Derby c. 1766. On display at the National Museum of American History, Washington DC.
Our next antique is less an object of luxury than an object which sits right at the heart of the history of tea in the 18th Century.
The market for Chinese tea grew rapidly among Europe's wealthy classes in the 18th Century. Britain, perhaps the country most renowned for its obsessive tea-drinking, imported thousands of tons of tea from China across the 18th Century.
A number of fantastic 18th Century tea sets from Britain point to its growing importance within polite elite culture.
Britain was fundamental in exporting tea-drinking culture across the globe, not least to its growing number of colonies: in Australia, New Zealand, Canada and, later, India.
One colony which was much less receptive to Britain's tea was America, who famously proclaimed their independence from Britain in 1776.
Foremost in the minds of the American rebels were the extortionately high taxes on imports imposed by the British – not least the imports on tea. One tax, known as the Stamp Act of 1766, was especially hated.
Tea would become symbolic in America's struggle for freedom: one of the defining moments in the early Independence movement was known as the Boston Tea Party of 1773, when American rebels emptied the contents of three tea ships into the port of Boston.
American rebels found sympathetic voices on the other side of the Atlantic, too: one of these was the famous Staffordshire potter Josiah Wedgwood, one of the foremost ceramicists working in England at the time.
Wedgwood pottery today is regarded as some of the finest British tableware available. His 'creamware' series – tableware made from a fine lead-glazed earthenware – was popular among the British Royal Family, and for this reason later became known as Queen's Ware.
Wedgwood himself was not a fan of the Stamp Act, partly for ideological reasons, and partly because the taxes affected his exports to America.
In the 1760s, he designed this iconic teapot for the American market with a simple, clear message written on it. 'No Stamp Act' was etched on one side, and 'Success to Trade in America' on the other.
The teapot pictured takes a similar design to the original Wedgwood one, which has now passed into private hands.
It is thought that there were several of these protest pots made by England's potteries across the 18th Century. The pot pictured was manufactured in Derby, and is currently on display at the National Museum of American History in Washington, DC.
3. French Silver-gilt Empire Period Tea Service, c. 1815-1819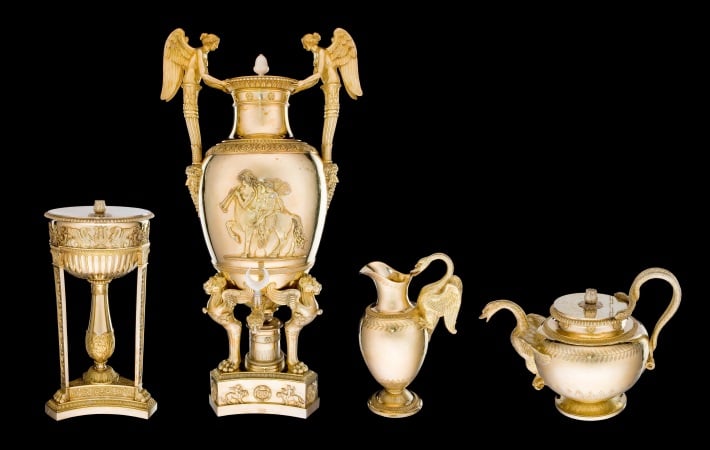 French Empire period silver-gilt service, made by Jean-Baptiste-Claude Odiot for Hugues-Bernard Maret, 1st Duke de Bassano. © N. Sethia Foundation/Chitra Collection
At the same time that tea was becoming a symbol of revolution in America, it was becoming a symbol of high art in Europe.
In the early 18th Century, as we have seen, tea was a drink which was associated with the splendours of the Far East.
By the start of the 19th Century, however, Europe had firmly adopted tea as its own.
European countries (Britain especially) in the early 19th Century were trying their hardest to break China's monopoly on the tea trade, a development which would culminate in the Opium Wars of the 1830s.
This shift away from China was inevitably reflected in the decorative styles of tea sets: instead of choosing chinoiserie stylings, the makers of tea sets began to align their creations with the major decorative styles of the day.
The factories at Meissen and Sevres, for example, were known particularly for their Rococo style services; while Wedgwood in Britain pioneered the Neoclassical style.
This fantastic early-19th Century tea set is a classic piece of design in the French Empire style. It is filled with triumphal Napoleonic and Neoclassical motifs, including the swan handles, winged supports and relief decoration.
Most important, however, is the choice of materials used to make this set. While most 18th Century chinoiserie sets were made from porcelain or other ceramic ware, by the start of the 19th Century a distinct European tradition had emerged: making tea sets out of silver, or in very special cases, silver-gilt.
That the European nobility and royalty were commissioning tea sets out of silver and silver-gilt (solid gold couldn't be used as it was too soft) attests to the importance of tea within elite society.
Entertaining guests with tea, served from magnificent, expensive tea services, had become an integral part of polite culture in Europe.
This fantastic, lavish set was made for Hugues-Bernard Maret, one of Napoleon's generals and later his Secretary of State. It is the work of important French silversmith Jean-Baptiste-Claude Odiot (1763-1850).
4. Sevres 'Reticulated' Porcelain Tea and Coffee Service, 1855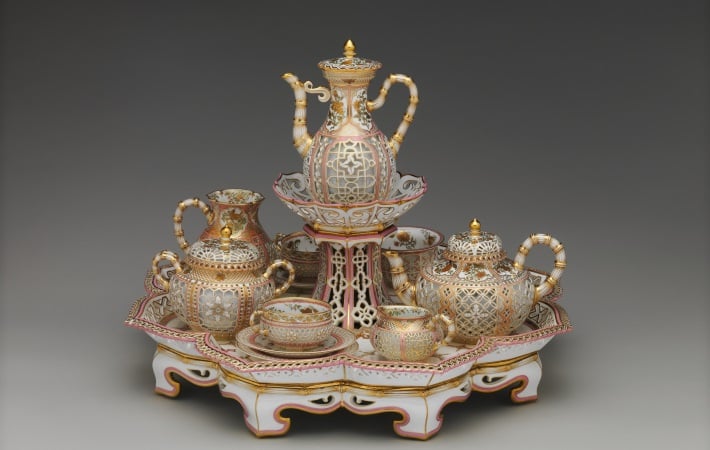 Sevres 'Reticulated' porcelain service in the Chinese style, on display at the Metropolitan Museum of Art, New York City.
By the middle of the 19th Century, tea drinking had become well established as a European past time, and the finest tea sets were becoming ever-more exquisite and elaborate.
As the 19th Century progressed, and tea was increasingly imported from British India rather than China, making it cheaper and more readily available, it was the tea set rather than the tea which took centre stage.
Europe's finest craftsmen in the 19th Century went to new lengths to create ever more impressive tea sets. This set, on display in the Met Museum, New York, is the work of the leading maker of fine porcelain in the 19th Century, the Manufacture Nationale de Sevres in France.
The craftsmen at Sevres had perfected an innovative method of porcelain production known as 'reticulation': the outer layer of each of the pieces forms a lattice-like structure, almost as if it has been pierced or carved.
The thin layer of porcelain on the inside is beautifully translucent, giving each piece an incomparable lightness and lustre.
This set was intended entirely to showcase the technical skill of its makers.
The influence of Chinese art can also still be felt heavily in this set, from the curving, bamboo-like handles and spouts of the teapot, to the inclusion of the lidded tea bowl, to the lacquerwork-style tea tray.
And yet the colour scheme – pink, gold, and white – is entirely European. Importantly also, the set has been designed for tea and coffee. Where in the 18th Century the two drinks were distinctive - tea would be consumed in the home and coffee at coffee shops - in the 19th Century a growing number of services were designed to cater for both tea and coffee drinkers.
This set is a stunning fusion of different styles, an important feature of 19th Century decorative art in general.
5. Japanese Style Silver Tea Set by Tiffany's, c. 1878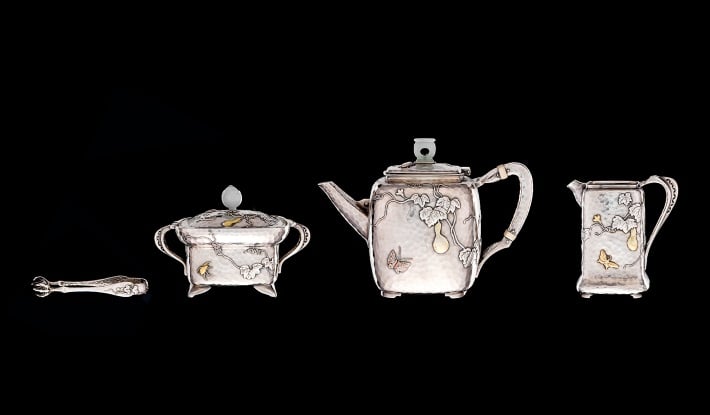 Tiffany's 'mixed metal' silver and hardstone tea service, the same design as the set Tiffany displayed at the 1878 Paris Exposition Universelle. © N. Sethia Foundation/Chitra Collection
The ability of 19th Century makers to fuse different styles to make something new and spectacular is also much in evidence in this quite beautiful late 19th Century set, designed by Edward Moore, chief silversmith at legendary jewellery establishment Tiffany's.
The context in which Moore was working was that of the Industrial Revolution, which had transformed the culture of tea completely.
The makers of luxury tea sets such as this had to find a way from distinguishing their sets from the cheap ceramic ones mass-produced for the global market.
But, interestingly, they were not averse to using 'modern' techniques to create their products: this innovative set makes use of a pioneering new technique known as 'mixed metal', which involves the inlaying of differently-coloured metals (such as copper and gold) as well as hardstones into the surface of the silver.
Its design was so successful that it won Tiffany the Grand Prix for silverware at the 1878 Paris Exposition. The company made several of these sets over the 1870s and 1880s, most notably for the American Westinghouse family.
Its decoration also tapped into the new fascination with Japanese art at the end of the 19th Century. Known as japonisme, this Japanese style of decoration would become a precursor to the Art Nouveau, often seen as the first truly modern movement in the decorative arts.
Indeed, one of the main players in the Art Nouveau movement, Siegfried Bing, praised this set, and its designer Edward Moore, as 'one of the first to comprehend the real value of the treasures' of Japan.
What's also interesting is that the designs of the individual pieces are much closer to what we would expect from a tea set in the 21st Century: the teapot has a sleek, modern design, and rather than a sugar spoon for a sugar bowl, there is a pair of sugar tongs for sugar cubes, only invented as recently as the 1840s.
In its simplicity, innovative design and Japanese styling, this stunning set is, then, perhaps, one of the first examples of a truly modern luxury tea set.
6. Russian Cloisonne Enamel and Silver-Gilt Samovar Set, Late 19th Century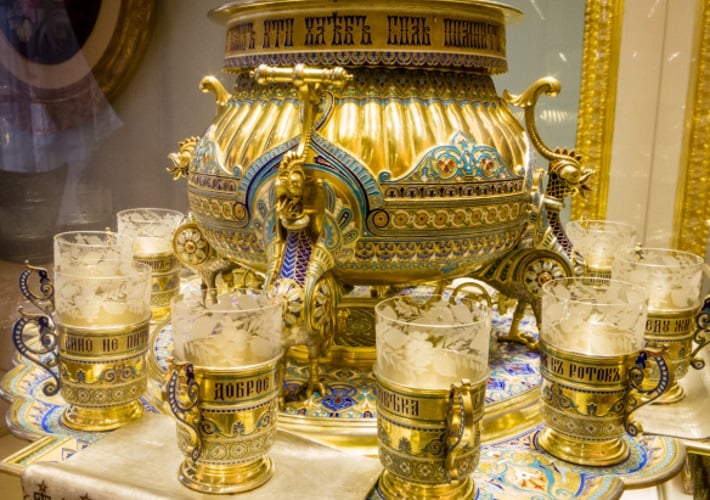 Enamelled silver-gilt samovar set by Faberge, late 19th Century. This set was originally made for the Romanov family and is now on display at the Faberge Museum in St Petersburg

By the late 19th Century, then, tea had firmly entered modernity. By the middle of the 20th Century, tea was, amazingly, the most popular drink in the world after water.
And although tea was mass produced for the mass market globally, each country had developed its own ceremonies and rituals associated with tea.
Japan had a famous and centuries' old tea ceremony. Britain had 'high tea', a nourishing evening meal served with tea, designed to refuel workers after a long day's labour.
And Russia had a quite different tea culture altogether, reflected in the distinctive design of its tea services.
Russian tea would be brewed with a high concentration of leaves and sugar in a small pot, and poured into small cups, before being diluted with hot water kept in an urn known as a samovar. Russian tea is sweet and black, and traditionally served with sweet foods.
The samovar is perhaps the iconic instrument of Russian tea drinking. Hot coals are put in the top, and they heat up a pipe which runs through the middle of the barrel, thus keeping the water inside hot.
Since the samovar played such an important role in Russian tea drinking, it's not surprising that samovars, like other European tea objects, evolved into being objects of high art and luxury.
Fine samovars were often made from silver, or silver-gilt, or even decorated with enamels, as in this beautiful example by the master Russian craftsman Karl Fabergé. This set was originally made for and owned by the ruling Romanov family in Russia, who were responsible for nearly all of Fabergé's most famous commissions.
It's a wonderful piece of craftsmanship, as one might expect from a name like Fabergé. It's also completely distinctive, and points to a completely separate decorative tradition from the rest of Europe.
As tea became firmly ingrained into global elite culture in the 18th and 19th Centuries, the tea set became another means by which the powerful could display their wealth and status, and a means by which the finest craftsmen could display their skill.
Whether in Russia, Britain, or China, owning a luxury tea set was the ultimate indulgence. We have this to thank for the many magnificent antique tea sets we come across today.